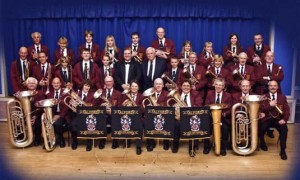 Chapel St Leonard's village hall was packed out last Thursday (4th) as Alford Silver Band performed yet another hugely successful concert. The audience was one of the biggest, if not the biggest that the hall has seen for the many events it stages.
The Remembrance Concert included traditional favourites such as Elgar's Nimrod, Jerusalem and Fantasia on British Sea Songs, but the audience was also treated to faultlessly played, powerful big-band numbers such as MacArthur Park, and the themes to the films Rocky, The Battle of Britain, Saving Private Ryan and even Thunderbirds. Tributes were also played for each of the armed services and audience was indulged in a sentimental sing-song of wartime melodies.
Musical Director Steve Walker was on excellent form and had the audience in stitches of laughter with his well-timed and pertinent quips between numbers.
"An excellent evening of entertainment" was the unanimous verdict by an audience that gave the band an extended standing ovation and still called for more even after the band had performed two encores.
"As ever, that was a wonderful performance," commented village hall treasurer Ken Ambridge. "Chapel really appreciates this band and there are always demands to get them back again. They have a very loyal following here."
The band will be in Chapel St Leonards again on Saturday 27th November to play carols for the formal switch-on ceremony of the village's Christmas lights at 6.00 pm on the Village Green.
Further information about the band including details of its busy Christmas programme can be obtained from the band secretary, Jane Taylor via 01507 466330,  or via secretary@alfordsilverband.co.uk or from the band's website: www.alfordsilverband.co.uk