Today marked the first rehearsal with the Desford band at the British International School in Ho Chi Minh City. Many of the members travel from around the world and come together to play at these annual tours. The two hour rehearsal allowed me to hear the full ensemble in all its glory and make sure the pieces were water-tight
Later that night…
Compared to other days, Tuesday was quite a relaxing one. We took advantage and sought refuge at the nearest steakhouse. Bearing in mind I had little to sleep and eat, I ordered perhaps the largest meal in history. The steak in question was a Porterhouse (not quite sure what that means) but I did know it weighed 1.2kg. That's about 2.65 pounds in old money. And it was quite the talking point for many reasons. I mean just look at it! My God! It was sensational, and with help from my good friend, Nobby, I managed to devour the lot. What I didn't expect to find out that the steak had cost me in the region of £100! Hands down, it was the most delicious steak I've ever tasted!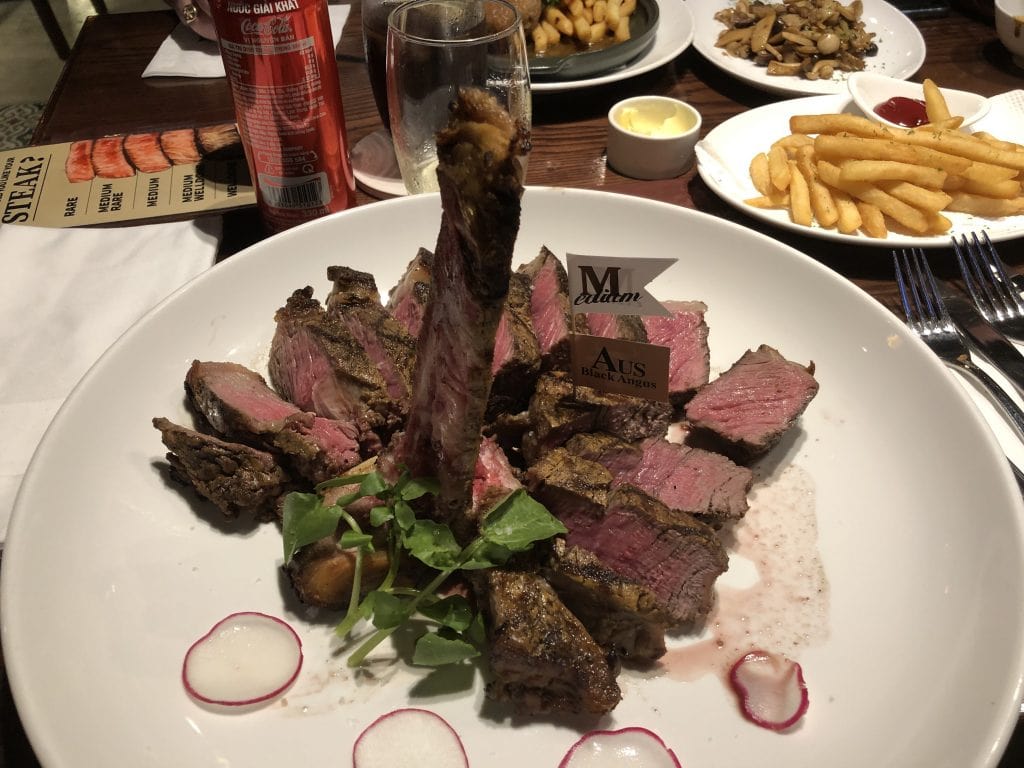 Wednesday
My stomach was still pretty full when I woke up for breakfast at 6am. Nevertheless, I munched on some cereal not knowing when or what I would be having later on. These late nights were starting to take its toll and so my warmup at 6.45am was interesting to say the least. But wearing the tour polo shirt for the first time reminded me why I said yes in the first place. So after my breathing exercises, quick mouthpiece buzzing and cornet warmup, I was raring to go!
Our bus journey today transported the band to the British Vietnamese International School in Ho Chi Minh City. This was a different school to the one we rehearsed at the day before. Immediately, I was drawn to the grandeur of the hall, where the band was playing.
The day consisted of two mini concerts and numerous demonstrations and workshops. The ages ranged from early years to secondary. Four band members accompanied me during the demonstrations, playing pieces such as Chitty Chitty Bang Bang and Supercalifragilisticexpialidocious.
Throughout the day, the band started to sound more cohesive and hearing Star Wars was simply breathtaking. Obviously I was playing too but I almost lost my place as I was transported to this amazing 'sound world'. The school itself was extremely impressive in terms of its facilities, the energy it creates and the musical ability of its students. Bravo!
Later that day…
What transpired next allowed me to completely relax and enjoy my time here in Vietnam. People who know me are aware how quiet and shy I can be. Starting conversations is admittedly one of my difficulties but this particular person noticed I was by myself. And so Steph came over and started a conversation with me. It was genuinely delightful. She was sharing her experiences about her first tour with the band and funnily enough, it was very similar to mine. That moment gave me the confidence just to dive in and embrace every opportunity. But the fact everyone on tour is looking after one another makes this Vietnam experience even more special and fulfilling.
What next?
On Thursday, we are visiting a different school. I expect the band will follow a similar structure in terms of concerts and workshops. Though I am told the school does have a brass band. As always, thank you for following my amazing journey so far and don't forget to visit back soon! 'till then, good night! Andrew xxx